Optical Filters for Electronic Displays & Enclosures
FILTERS FOR OPTICAL EMI/RFI SHIELDING, CONTRAST ENHANCEMENT, TRANSPARENT HEATING, NIGHTVISION COMPATIBILITY, AND ENVIRONMENTAL DURABILITY (e.g., IMPACT RESISTANCE)
Dontech's engineering and sales teams work closely with customer teams to provide a variety of optical filter design and fabrication services including substrate selection, thick and thin film coating selection, optical performance modeling, as well as mechanical configuration and EMI/RFI shielding methodology.
Dontech designs and produces optical filters using glass, rigid plastics, or flexible substrates to create the desired optical and physical properties.  Multiple different substrates and coatings can be used together to achieve an optimum configuration and enhanced properties.  Dontech uses a range of lamination systems for bonding which are selected for application suitability.
Our vertically integrated facility provides multi-axis machining, thick film (e.g., chemical and abrasion resistant antiglare) coatings, lamination, and laser cutting.  Thin film coatings are vacuum deposited via IAD e-beam evaporation and DC Magnetron sputtering.  Secondary operations include automated dry and wet optical bonding, heater busbar fabrication, MIL-STD compliant wire attachment, ATP design, as well as environmental, optical, electrical, and durability testing.
PERFORMANCE ENHANCING DESIGN ELEMENTS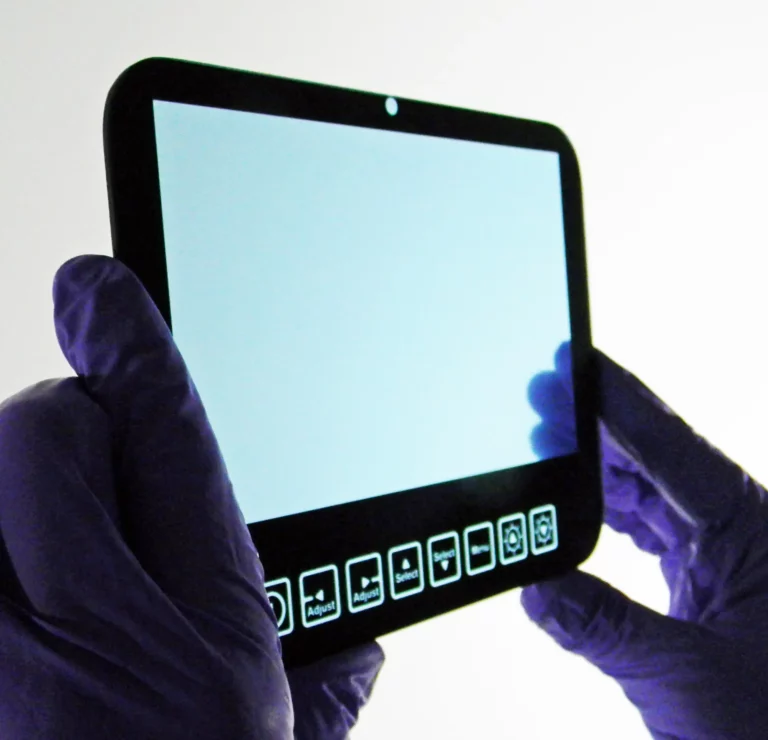 Transparent conductive coatings, conductive optical grids incorporated into glass, plastic, and film substrates for electromagnetic/radiofrequency shielding applications; technologies including:
Thin film transparent conductive coatings (e.g., ITO) with available resistance values of <1 to >100 ohms/sq

Coatings can be indexed matched to air, adhesives, or optical substrates to optimize optical performance

Conductive optical grids

Patterned and etched conductive coatings
Plated woven meshes
Wire diameters ranging from 0.0001″ to 0.0022″
Mesh/OPIs counts from 50 to 250

Display formats up to 85" diagonal
Structural optical EMI/RFI filters for aircraft, marine, and architectural transparencies
Various grounding configurations including "I", "L", "U" busbars, and extended mesh
Custom designs for medical, military, and telecom applications to requirements such as MIL-STDs (e.g., 461, 462, & 464), CISPR, TEMPEST, FCC & HEMP
Dontech technologies for contrast and brightness enhancements for high ambient/sunlight readability on optical substrates for LCDs, LEDs, OLEDs, legacy CRTs, and optical overlays are used with technologies including:
High Performance Antireflective (AR) Coatings
Antiglare hardcoatings and etched glass finishing to be used with and without AR coatings
Contrast Enhancements Filters – colored filters

Colored red, green, blue, amber, yellow contrast, and neutral density enhancement filters and narrow bandpass filters for monochrome displays, LEDs & switches
Neutral density gray filters and triple notch filters for full color displays
Polarizers– linear and circular for several display families and imaging systems

Active and Passive Backlighting LCD Enhancements
Custom designs to combine contrast enhancement with EMI/RFI shielding, NVIS compatibility filtering, and transparent heating elements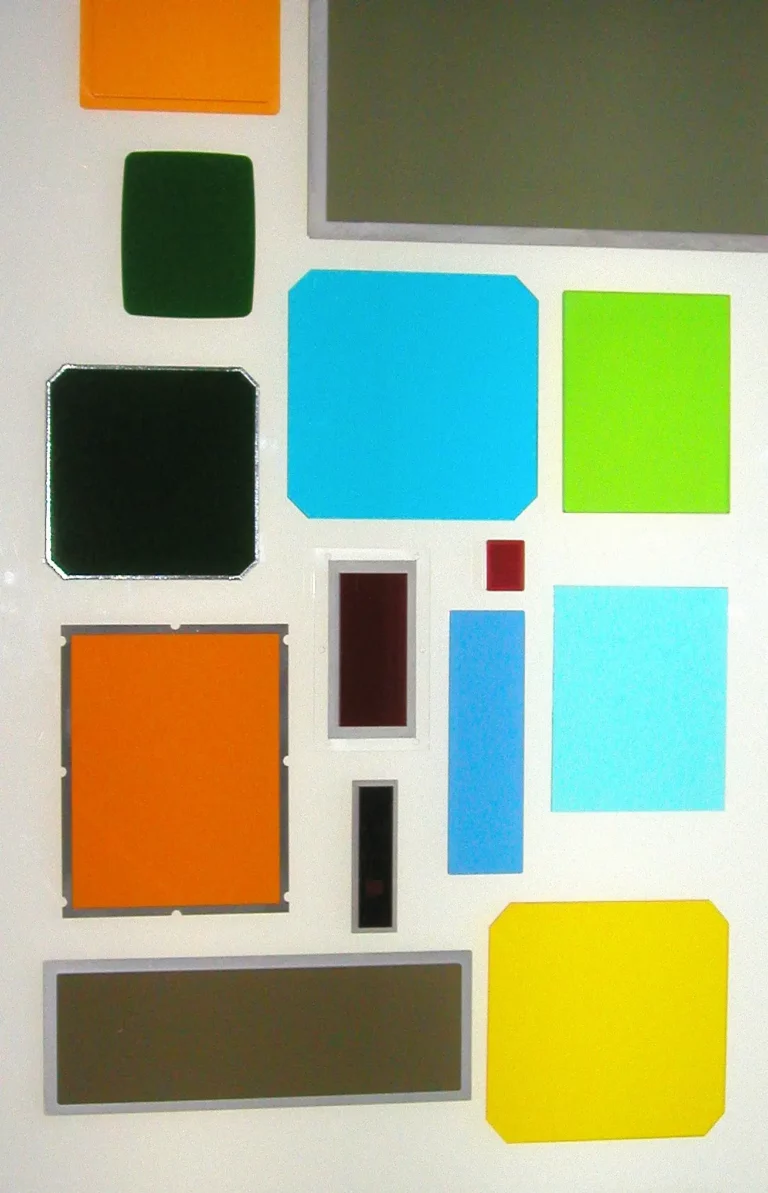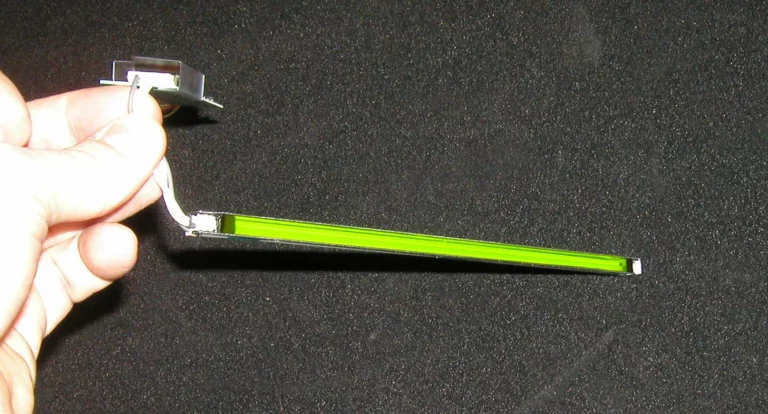 Dontech provides filters compliant with MIL-STD-3009 for use in Classes A, B, and C NVIS requirements. Night vision filters can be incorporated in front of any display, membrane switch, or light source, or into the backlight assembly, light guides, or sources of an LCD. Dontech's filters for night vision compatibility include:
Plastic NVIS Green A and Green B
Plastic NVIS Yellow
Plastic NVIS Red
Plastic NVIS White or Full Color (for white LEDs and full-color LCDs)
Glass NVIS Green A and Green B
Glass NVIS Yellow
Glass NVIS White or Full Color (NIR Absorbing)
Glass NVIS White or Full Color (NIR Reflecting – Hot Mirrors) Custom designs to combine NVIS filters with EMI/RFI shielding and transparent heating.
Transparent heaters are optically transparent substrates with electrically conductive coatings or grids. When current flows across the coating or grid, it generates heat to extend the operating temperature of LCDs in cold environments and for anti-fogging, anti-icing, and de-icing of optics and optical displays. Key attributes:
Substrates – Glass and plastic available in both rigid and film formats
Applications – Displays (e.g., LCDs), touchscreens and precision optics for anti-fog, anti-icing, de-fog, de-icing, and to extend the useful temperature range of LCDs.
Formats

Thin film ITO coatings on optical substrates with parallel busbars

Typical resistances range from <1 ohm/sq to >500 ohms/sq
Can be dielectrically enhanced with index matched (IM) thin film coatings to improve reflection and transmission properties

IM to air
IM to substrate (typical: n= 1.41 through n = 2.44)
IM to optical adhesive (typical: n=1.41 through n = 2.36)

Etched or patterned conductive grids

Typical power densities range from < 0.5 to >5.0 watts/sq. in.
Can be sold standalone or integrated into display, touchscreen, and optical assembly.
Temperature sensor, wire leads, and connector are fully customizable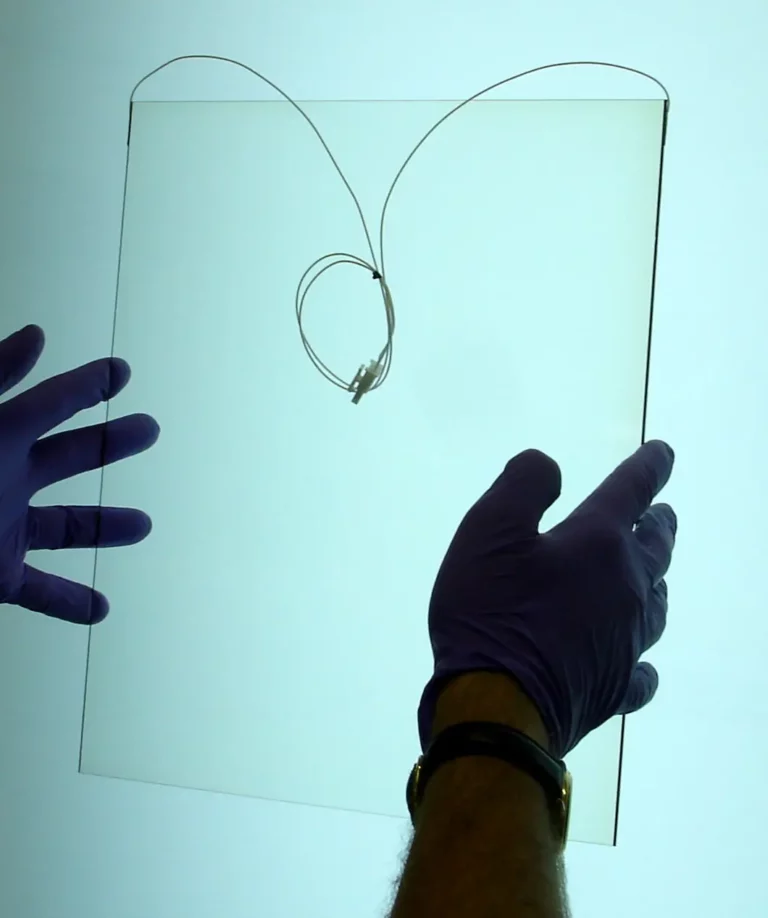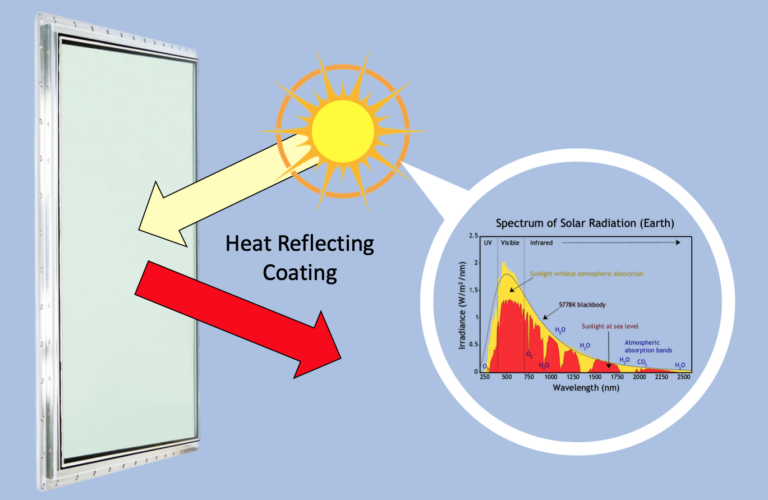 HeatShield™ solar and IR reflecting coatings reflect unwanted heat while allowing visible light to transmit.
Key attributes:
Substrates – Glass and plastic available in both rigid and film formats
Applications – Displays (e.g., LCDs), touchscreens, and enclosures.
Formats – transparent thin film coating

Can be dielectrically enhanced with index matched (IM) thin film coatings to improve heat reflection and visible transmission properties

IM to air
IM to substrate
IM to optical adhesive

Can be sold stand alone or integrated into display, touchscreen, and optical assembly and combined with EMI/RFI shielding and transparent heaters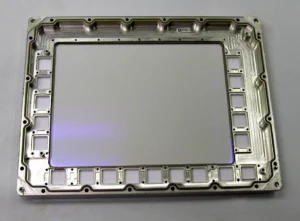 Dontech utilizes multiple ESD-compliant Class 10,000 cleanrooms with Class 1,000 and Class 100 work centers to integrate our optical filters, films, and coatings into customer displays, touchscreens and optics as required. Integrations include:
Automated and Semi-Automated Optical Bonding – High Volume Wet and Dry Optical Bonding of Films, Filters, and Components
Film Lamination and Conversion – Application of Antireflective, Anti-Glare, Polarizers, and Conductive films to displays and touchscreens
EMI/RFI Shielding – Optical EMI/EFI shielding mesh and conductive coatings with bus bars applied to displays and touchscreens
Thermal Control – Lamination or bonding of rigid or flexible heaters to displays and touchscreens; application of heat reflectors
Partial Integration – Installation/Perimeter bonding of optical filters or components into frames, bezels, or electronic assemblies
Full Up Integration – As requested by our customers, Dontech will fully integrate and assemble the electronic assembly