Thin Film Coatings and Services
DONTECH OFFERS A BROAD RANGE OF HIGH ENERGY CUSTOM PRECISION THIN FILM COATINGS ON A WIDE VARIETY OF SUBSTRATES.
Dontech's in-house thin film coating expertise includes DC and AC magnetron sputtering, ion-enhanced E-beam evaporation, and chemical vapor deposition (CVD). Optical coatings can be applied to a variety of rigid and flexible substrates including different types of glass, plastic, and crystalline materials. Performance enhancing thin film coatings are used to improve the optical, electrical, and environmental properties of these materials.
Coating designs range from single layer coatings to over 100-layer optical stacks.  Dontech can design the required optical stack to meet performance requirements, or we can apply the coating to the customer's parameters. Coatings can be applied to precision machined rigid and flexible substrates in a batch process or they can be applied roll-to-roll for larger flexible formats. Dontech's thin film coatings can be applied to one or both substrate surfaces.
Performance Enhancing Design Elements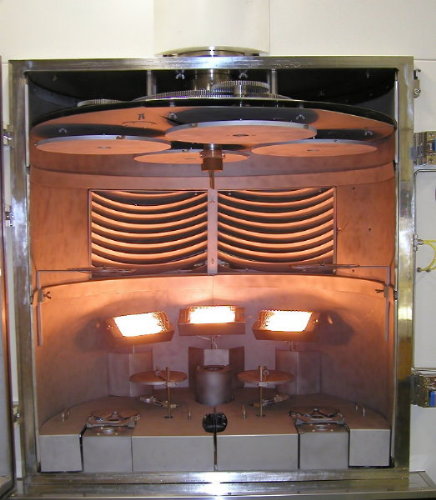 1 to 100+ layer coating stacks with individual layer thickness ranging from 100 to 4,000 angstroms can be applied to a broad range of materials.
Antireflective Coatings – Single layer and multilayer; designed for UV, visible, NIR, MIR, and FIR (out to 25 microns) for substrates with and index from 1.47 to 4.0 and Angle of Incidence (AOI) from 0 to 60 degrees
Non-Conductive Oxides – (e.g., SiO2, TiO2, AlO2)
Metallic Coatings – (e.g., Silver, gold, copper, chromium, nickel, nichrome, stainless steel, palladium, platinum, titanium)
Mirrors

Dielectrically enhanced metallic

Transparent Conductive Oxides – (e.g., ITO, AZO)

< 1 ohm/sq to >100 ohms/sq
Dielectrically enhanced

Dichroic Filters

Narrow Band Pass
Short Wave Pass
Long Pass
Band Rejection
Beamsplitters

Other – Developmental
Crystalline Substrates
Fused Quartz
Sapphire
Silicon (Si)
Zinc Sulfide (ZnS)
Zinc Selenide (ZnSe)
Glass Substrates – Options include annealed, tempered, and chemically strengthened
Aluminosilicate
Borosilicate
Boro-aluminosilicate
Borosilicate-crown (N-BK7)
Fused Silica
Soda Lime
Plastic Substrates
Acrylic
Allyl Diglycol Carbonate (ADC)
Cellulose Triacetate (TAC)
Polarizers (linear & circular)
Polycarbonate (PC)
Polyethylene Terephthalate (PET)
In addition to leveraging our extensive supplier network to source all raw materials and provide a complete thin film coated product solution, Dontech also offers toll coating services. We will gladly coat customer-supplied rigid or flexible substrates in batch or roll-to-roll processes to the extent of the capabilities listed above.
Dontech has extensive optical, physical, and general product related testing capabilities.  Common tests include reflection and transmission (190nm through 25 microns), wedging, wavefront distortion, conductivity (non-contact and 4-point probe), temperature and humidity, salt fog, salt solubility, adhesion, and abrasion. We can run a broad range of destructive and non-destructive testing to characterize the performance of our thin film coatings.  We commonly have full traceability down to the part level and can easily create the necessary support reports. Our broad metrology abilities also allow us to reverse engineer a product when it is required to help create a direct equivalent to an existing product.  Everything that we produce is custom.  Subject to minimum run charges we will run from 1 of a custom item to 100K+.
In addition to metrology to characterize the performance of our coatings, we will inspect incoming and outgoing materials for compliance to the agreed upon blemish specifications.  We work to a broad range of industry specifications (e.g., MIL-PRF-13830 – scratch and dig standard) and to custom specifications as well.  We will cleanroom package as required.
DONTECH & Thin Film Coatings and Services
Dontech has extensive engineering and technical support resources that can assist you with your custom thin film coatings design needs. Our technical staff have diverse backgrounds relevant to high-performance display and precision optics markets. For many of our top customers, we function as an extension of their engineering departments, supporting projects from concept to final system delivery.