VARGard Reflection Reducing Films
Antireflective and AR/AG coatings on hardcoated PET and other flexible substrates
Dontech VARGard™ brand antireflective brand films reduce surface reflections and improve contrast ratios and readability of electronic displays. Dontech's VARGard™ Series of optical enhancement films provide specular antireflective (AR) properties to reduce front surface reflections (glare) and improve light transmission from LCDs, OLEDs, VFs, ELs, and other types of displays.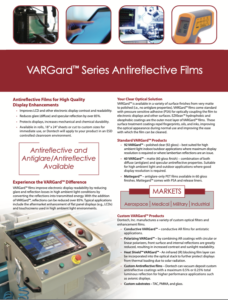 Key Product Elements
Substrate: 0.007" thick PET (Polyethylene Terephthalate)
Hard Coating: UV cured thick film hard coating to improve abrasion, scratch, and chemical resistance. Clear/Polished for 92 VARGard, matte for 60 VARGard; Exceeds 3H pencil hardness.
Antireflective coating: A multi-layer, broadband AR coating with total luminous reflection of <0.75%
EZKlean™ low surface energy outer layer (hydrophobic and oleophobic) is the standard outer layer of this thin film coating. EZKlean™ typically will improve the overall mechanical durability of your display, reducing its susceptibility to surface damage. It also resists inks, stains, fingerprints, and most oils, and if soiled, it is easier to clean than a straight antireflective (AR) coating. Dontech can also add VARGard™ to your display or touchscreen in our ESD controlled clean rooms.
92 VARGard-0.75 – polished clear (92 gloss) – best suited for high ambient light indoor/outdoor applications where maximum display resolution is required.
60 VARGard-0.75 – matte (60 gloss finish) – combination of both diffuse (antiglare) and specular antireflective properties. Suitable for high ambient light and outdoor applications where good display resolution is required.
VARGard™ Standard Construction

VARGard™ films are supplied in 24" wide rolls, 18" x 24" sheets, or pre-cut to your specific size. Pressure sensitive adhesive (PSA) with a release liner is applied to the rear surface of the film to allow for easy installation on your display. Custom VARGard™ AR films are available, including custom substrates, hard coatings, thicknesses, and AR coatings, however they are subject to minimum run and setup requirements.