VCF & OCF Series Transparent Conductive Films
Transparent conductive coatings on PET and other flexible substrates. Common applications are as a low cost base material for creating optical EMI/RFI shielding ground planes and transparent heaters.
Dontech and its DyneTEC subsidiary manufacture a variety of transparent conductive coatings for EMI shielding, optical scanners, touchscreen components, and transparent heater applications. Transparent conductive oxides such as indium tin oxide (ITO) and metals such as gold or silver are deposited via DC or AC magnetron sputtering or ion-enhanced e-beam evaporation onto flexible optical substrates. Our standard VCF and OCF products are made with coatings on PET (polyethylene terephthalate) substrates, however, coatings can be applied to virtually any flexible optical substrate. Common specialty substrates include glass, acrylic, polycarbonate, and TAC (triacetate). Dontech VCF Series™ films and DyneTEC OCF Series™ films are available in a wide range of resistivities (e.g., < 3 ohms/sq to >500 ohms/sq) and are ideal for low-cost solutions, including optical EMI/RFI shielding of electronic displays and enclosures used in medical, military, and industrial applications.

Transparent conductive coatings (single or multi-layer) on flexible optical films

High visible light transmission with low photopic reflection (conductivity & design dependent)
Effective EMI/RFI shielding (conductivity dependent) for electronic displays, touchscreens, enclosures
Variety of product configurations available including rolls, sheets, and cut-to-size
Optical pressure-sensitive adhesive (PSA) can be applied to the uncoated film surface
Conductive coatings can be deposited over abrasion and chemical resistant hard coatings (e.g., antiglare or gloss) or directly on substrates
Protective masking can be applied to front and/or rear surfaces

ELECTROKLEAR™ OCF SERIES™ PRODUCT CONFIGUATIONS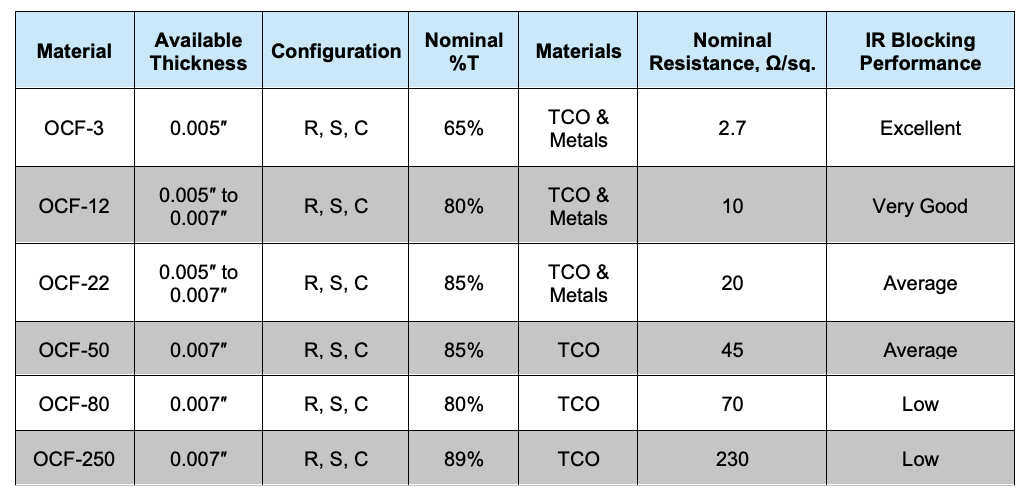 OCF is Dontech's designation for vacuum deposited visually transparent optical grade conductive coatings on flexible optical films. The conductive film coatings are constructed in two formats: transparent conductive oxides (TCO), and multi-layer coatings of TCO and metallic layers. The product designations include the OCF prefix followed by the maximum resistance, measured in ohms per square.
For example, an OCF-12 is a multilayer transparent conductive coating which has a maximum resistance of 12 ohms per square.
R = Roll (12″, 24″, 500 mm, 1,000 mm and custom widths) and sold by square foot or sq meter
S = sheets (24″ x 24″ or 500 mm x 500 mm)
Custom coatings, including custom substrates, hard coatings, thicknesses, resistances, and optical properties are available; however, they are subject to minimum run and setup requirements.